Personnel
Graduate Students
Rosemary A. Burk
B.S. Dietetics and Biology, Texas Woman's University
Ph.D. Candidate, Biology, University of North Texas. Advisor: Dr. James H. Kennedy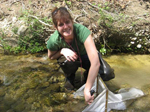 Growing up on a farm in East Texas, my love and respect of the natural world was formed at an early age. Being dependent upon land instilled an acute awareness and curiosity of nature's processes and complexities and those early experiences continue to be a strong motivator.
I am studying the ecology and recolonization of benthic macroivnertebrates in a perennial groundwater-fed stream in the Western Cross Timbers Ecoregion (Parker Co., TX). The stream supports a regionally high diversity of aquatic insects and fish, and maintained a modest flow of 2 kilometers throughout the worst drought on record. Historically, the area was endowed with springs; however, the majority of these have failed due to sedimentation and groundwater abstraction. The perennial nature of the system offers a unique opportunity to study the role of flow permanence and recolonization dynamics at nearby intermittent sites in a semiarid region. Key research objectives include: characterizing the benthic community of a perennial stream and associated disconnected pools, studying recolonization dynamics at an intermittent site following the drought, determining the role of disconnected groundwater-fed pools as refugia to invertebrates, and studying the effect of flow regime on Chironomidae phenologies and community composition.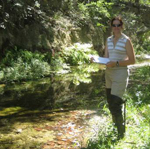 This research will serve as a baseline study in a region that implemented a multi-county Priority Groundwater Management Area (PGMA) in 2007. The escalating demands of urbanization and gas well drilling related to the Barnett Shale play coupled with anticipated global climate change will likely produce more frequent and severe periods of drought that are likely to change the hydrology of the remaining springs and in turn the biotic communities they support. With a better understanding of the range of physiological/behavioral adaptations that aquatic invertebrates possess, water planners and others interested in conservation will be better equipped to balance the escalating demands placed upon finite water resources in a manner that supports biotic integrity and long-term sustainability of groundwater-dependent ecosystems.
Upon completing my doctorate, my career goals are to teach and continue research in aquatic ecosystems with an emphasis on conservation ecology and environmental monitoring.
Tamara A. Contador
B.S. Biology, Pontificia Universidad Catolica de Chile, University of North Texas (2006)
Ph.D. student, Biology, Advisor: Dr. J. H. Kennedy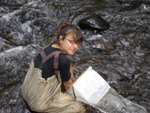 I am interested in studying the phenology, ecology, and biodiversity of benthic macroinvertebrates (freshwater insects) associated to sub-Antarctic streams, in the Cape Horn Biosphere Reserve, Chile. My dissertation research focuses on the aquatic insects that inhabit the altitudinal gradient of the Róbalo River, which provides drinking water to the city of Puerto Williams (Navarino Island, Chile). The purpose of my dissertation is to describe community dynamics of benthic macroinvertebrate fauna associated to streams of the Cape Horn region of southern Chile. The first part focuses on the evaluation of the phenology (life cycles) of selected freshwater insects along the altitudinal gradient of the Róbalo River watershed, Navarino Island. The second part focuses on the evaluation of the fauna associated to the different altitudinal locations and seasons. The third part will focus on the translation of the information obtained from the study into ecotourism and conservation activities in the region. Finally, I seek to provide a concise taxonomic list for the watershed, which will provide a baseline for future research, as well as a representative list of the fauna associated to Chile's sub-Antarctic freshwater ecosystems.

Research: Freshwater Insects of the Cape Horn Biosphere Reserve, Chile

Heather L. Krell
B.S. Biology University of North Texas
M.A. student, Biology, University of North Texas, Advisor: Dr. James H. Kennedy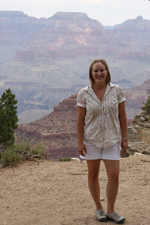 Having grown up in a suburb of Dallas, my contact with the natural world was limited to experiences in my backyard, the surrounding neighborhood, and family camping trips. Aside from picking flowers from the neighbors' gardens and making mud pies, I have fond memories of bringing home tadpoles and crawfish from the creeks near my house. I also had a knack for adopting every stray cat that roamed the streets. My science experiences in high school were far from interesting with the football coach as my instructor. My love of nature and curiosity about science was temporarily shelved. I rekindled this interest during my first year at UNT while taking a Seashore Ecology field course in Belize and promptly declared a major in Biological sciences.
I completed my B.S. in Biology with an emphasis in Ecology and during that time, I had the good fortune of working in Dr Kennedy's benthic ecology lab on various projects. Additional work experience includes: student research assistant at LAERF, tree survey of Clear Creek Heritage Center, Hickory Creek 319 grant assistance with the City of Denton, and teaching assistant for Plant Biology and Biology for Education majors. I have taken many excellent field courses in entomology and environmental biology, which have inspired me to continue my education at UNT.
I am currently a teaching assistant for Biology for education majors and research assistant for the NTMWD East Fork Monitoring Project. In combination with completing an MA in Biology, I plan to earn a teaching certificate in secondary school life science. My future plans are to teach at either the high school or community college level and/or continue working in the field of watershed protection and environmental monitoring.

Benjamin Lundeen
B.S. Biology, University of North Texas, 2006
Ph.D. candidate, Biology. Advisor: Dr. James H. Kennedy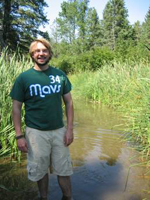 I came to UNT as a Biology undergraduate in 2005 and was instantly drawn to the benthic ecology laboratory due to my love for the outdoors. Some may say I was born into it, spending weekends and summers hunting and fishing with my father on beautiful streams and lakes of Minnesota and Wisconsin. The enjoyment I get from being outside has inspired my research interests in the field of stream ecology. Starting as an undergraduate in Dr. Kennedy's benthic ecology lab, I completed my undergraduate thesis and have continued in the lab as a PhD student. My current research deals with discovering how native and invasive freshwater mussels may be used in determining monitoring water quality and distribution of both emerging and legacy contaminants. My research has continued to accumulate new aspects of study due to my passion of biology, ecology and chemistry, and I hope to "bioaccumulate" as much knowledge as possible during my remaining time on this campus.

Jenny Paul
B. S. Biology, University of North Texas, 2007
M. S. student, Advisor: James H. Kennedy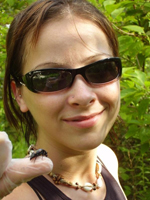 My research interests in benthic ecology include life history tactics of the caddis fly Cyrnellus fraraternis (Trichoptera: Polycentropidae) on wood assemblages in the Elm Fork of the Trinity River. Recently I have begun to study obligate endosymbiotic fungi, Trichomycetes, and their non-predacious aquatic insect hosts in the Elm Fork. I teach Applied Microbiology and Medical Bacteriology labs and I teach in the Elm Fork Educational Center.

Alexandria Poole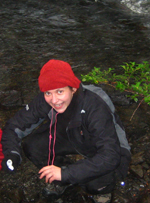 I am pursuing a MS in Environmental Science and a PhD in Philosophy of the Environment. I am pursuing both of these programs concurrently because I want to look at the cultural and ecological aspects involved in conservation issues. In order to address the loss of cultural and biological diversity, I am looking at ecology within and of the city – treating those living in the urban context as part of an ecosystem. I hope to integrate the biocultural approach into urban ecology, legitimizing the use of biological and cultural studies as a scientific approach to conservation. Towards this end, I have been working as a research assistant in the Sub-Antarctic Biocultural Conservation Program housed by the University of North Texas and the Universidad de Magallanes, Chile. This approach to biocultural conservation is complemented by my work as an intern in the Baltimore Ecosystem Study of Baltimore, Maryland, an urban long-term ecological research site, where I can focus my questions within an urban context. Additionally, my work is looking to overcome academic boundaries by participating in policy, education and outreach approaches.

Charles R. Randklev
B.S. Biology, The University of Texas- Arlington, 2005
Ph.D. candidate, Biology. Advisor: Dr. J.H. Kennedy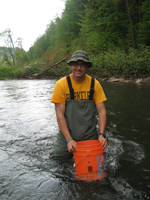 I am interested in the distribution, habitat requirements, and host fishes for freshwater mussels (unionids). Freshwater mussels are thought to be ecosystem engineers, influencing nutrient cycling and benthic macorinvertebrate community structure within many freshwater ecosystems. Unfortunately, over 70 % of unionid species within North America are considered threatened. In my research I use archaeological unionid remains to determine paleoenvironmental conditions, taxonomic turnover, and the effects of modern impacts on the upper Trinity River drainage. Additionally, because unionids require substrate to burrow and anchor, I am interested in the role substrate stability may play in recruitment success and maintenance of existing mussel beds. In addition to my research, I am involved in establishing and maintaining a freshwater mussel collection at the Elm Fork Natural Heritage Museum.

"To keep every cog and wheel is the first precaution of intelligent tinkering."
Aldo Leopold

Project: Survey of distribution and habitat requirements for freshwater mussels (unionids) on the lower Sabine and Brazos Rivers.

Scope: Collect mussel distribution, habitat utilization, and hydrological information to help elucidate the relationship between mussel beds, substrate, and hydrology.

Joseph A. Skorupski, Jr.
B.S. Fisheries Biology: Mansfield University 2008
M.S. Biology in progress: Advisor Dr. J.H. Kennedy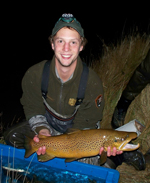 After growing up in rural Pennsylvania I continued my appreciation for the outdoors at Mansfield University of Pennsylvania earning my B.S. in Fisheries Biology. While at Mansfield, I studied the population recovery of fish in Babbs Creek after the remediation of acid mine drainage discharges.
Throughout my time at Mansfield and afterwards, I worked a number of short-term technician positions. In 2005, I assisted with the development and remediation of a number of acid mine drainage sites in Schuylkill County Pennsylvania for the Schuylkill Headwaters Association. The following summer I worked in Oregon and Idaho with the USFS implementing a long-term habitat assessment on the Upper Columbia River Basin in concern of the endangered bull trout. After graduating, I acquired a six month position in the fisheries department at Yellowstone National Park. I was primarily the aquatic ecology technician where I assisted with monthly water quality collections, macroinvertebrate sampling, habitat assessments, and amphibian surveys. I also helped execute an ongoing restoration project for the native westslope cutthroat trout. The project uses piscicides to remove non-native and hybridized fish species.
My experiences at Yellowstone have led to my M.S. thesis project. I will be examining the macroinvertebrate populations of the East Fork Specimen Creek to determine the effects of a newly licensed rotenone. The project will be conducted the summer of 2009 and 2010 in collaboration with historical data.
Jaime Slye
B.S. Biology, Texas A&M University – Kingsville 2003
M.S. Biology, Texas A&M University – Kingsville 2005
Ph.D candidate, Biology, University of North Texas, Advisor: Dr. James H. Kennedy
I developed a passion for ecological field work while pursuing my master's degree at Texas A&M – Kingsville. The classes were field intensive, bringing taxonomy, behavioral, and ecological surveys to the forefront of the laboratories. My master's thesis focused on the assemblages of parasites found in Atlantic croaker, Micropogonias undulatus, from two typical estuaries and a hypersaline bay in south Texas. Parasites are exquisite in nature, from the intricate detail of their small bodies to the acuteness of the relationships they share with their hosts. Their assemblages can be used to assess the health of a particular environment.
My master's research helped me to pinpoint the areas of biology that I would like to encompass in my future career: ecology, toxicology, and invertebrate life-cycles. For my Ph.D dissertation, I am characterizing the benthic macroinvertebrates found in the Trinity River of the Dallas - Fort Worth Metroplex from the late 1980's and the present. Historically, the Trinity River has been a highly effluent based system, with influences from municipal and industrial discharges. A comparison of the populations of benthic organisms from past to present will help identify key elements of water quality, habitat, and land use changes that alter the assemblages of organisms. My goal after completing my doctoral research is to obtain a tenure-track faculty position at a university and to continue conducting research that uses invertebrates to assess the health of aquatic ecosystems.
Publications
Atkinson SF, Johnson DR, Venables BJ, Slye JL, Kennedy JH, Dyer SD, Price BB, Ciarlo M, Stanton K, Sanderson H, Nielsen A. 2009. Use of watershed factors to predict consumer surfactant risk, water quality, and habitat quality in the upper Trinity River, Texas. Science of the Total Environment 407(13): 4028-4037.
Slye JL, Kennedy JH, Johnson DR, Atkinson S, Dyer S, Ciarlo M, Stanton K, Sanderson H, Nielsen AM, Price BB. In Review. Relationships between benthic macroinvertebrate community structure with geospatial, habitat, in-stream water chemistry, and surfactants in the effluent dominated Texas Trinity River. Environmental Toxicology and Chemistry.
Slye JL, Kennedy JH, Ortego LS, Holmes CM, Burton GA, and La Point TW. In preparation. A Sediment Recolonization Study to Examine Potential Fipronil Effects on Benthic Macroinvertebrates in Freshwater Ecosystems in the Southern United States.

Research: Dissertation Research Abstract