Personnel
Undergraduate Students
Desiree E. Main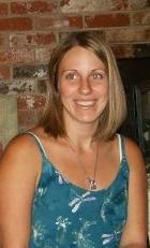 I started college as an art student, with the intent of becoming a high school art teacher. It wasn't until I became and avid rock climber that I developed a deeper appreciation for the great outdoors. On my rock climbing expeditions, I found that I was not only interested in nature's art but also in the way that all of nature's organisms play a role in their ecosystem. I became especially fascinated with insects. I decided that Ecology was my true calling and rerouted my career path in school. Although I still plan on finishing my art degree, I am currently working on my BS in Biology with a minor in Chemistry. I started working for Dr. Kennedy in his benthic ecology lab following his course in Aquatic Insects of North America. I currently assist the monitoring of West Nile virus through mosquito surveillance in the City of Denton. I am also a lab assistant manager for the DFW International Airport bioassessment project. I have many interests ranging from the endemic aquatic species found in desert ecosystems, to predator prey interactions in the aquatic ecosystems found in the spring-fed watersheds of the Ozark mountains of Arkansas. I plan to attend graduate school at UNT with Dr. Kennedy as my major advisor and continue further research in these areas. Although I have not decided on an ultimate career, teaching others will certainly be one component of my future.
Marcos Diosdado
B.S. Biology (in progress) University of North Texas
Denton, Texas
Undergraduate student and research assistant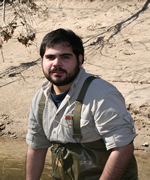 I was born in Houston and raised in Los Patios (municipio de Valle de Santiago), Guanajuato, Mexico. My interest with insects started when I enrolled for the aquatic insects class. However, I still have insects that I placed into isopropyl alcohol in 1987 (I was eight at the time).
Since completing the aquatic insects class, I have also completed the introduction to insects and stream ecology classes. I am also working in Dr. Kennedy's lab and enjoy sorting samples. I am working on my undergraduate degree and hope to graduate soon and eventually return for graduate school.