Graduate Students
Charles R. Randklev
B.S. Biology, The University of Texas- Arlington, 2005
Ph.D. candidate, Biology, Advisor: Dr. J.H. Kennedy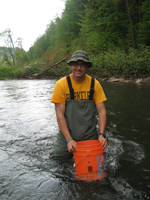 I am interested in the distribution, habitat requirements, and host fishes for freshwater mussels (unionids). Freshwater mussels are thought to be ecosystem engineers, influencing nutrient cycling and benthic macorinvertebrate community structure within many freshwater ecosystems. Unfortunately, over 70 % of unionid species within North America are considered threatened. In my research I use archaeological unionid remains to determine paleoenvironmental conditions, taxonomic turnover, and the effects of modern impacts on the upper Trinity River drainage. Additionally, because unionids require substrate to burrow and anchor, I am interested in the role substrate stability may play in recruitment success and maintenance of existing mussel beds. In addition to my research, I am involved in establishing and maintaining a freshwater mussel collection at the Elm Fork Natural Heritage Museum.

"To keep every cog and wheel is the first precaution of intelligent tinkering."
Aldo Leopold

Project: Survey of distribution and habitat requirements for freshwater mussels (unionids) on the lower Sabine and Brazos Rivers.

Scope: Collect mussel distribution, habitat utilization, and hydrological information to help elucidate the relationship between mussel beds, substrate, and hydrology.