Graduate Students
Rosemary A. Burk
B.S. Dietetics and Biology, Texas Woman's University
Ph.D. candidate, Biology, University of North Texas, Advisor: Dr. James H. Kennedy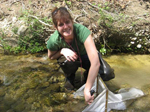 Growing up on a farm in East Texas, my love and respect of the natural world was formed at an early age. Being dependent upon land instilled an acute awareness and curiosity of nature's processes and complexities and those early experiences continue to be a strong motivator.
I am studying the ecology and recolonization of benthic macroivnertebrates in a perennial groundwater-fed stream in the Western Cross Timbers Ecoregion (Parker Co., TX). The stream supports a regionally high diversity of aquatic insects and fish, and maintained a modest flow of 2 kilometers throughout the worst drought on record. Historically, the area was endowed with springs; however, the majority of these have failed due to sedimentation and groundwater abstraction. The perennial nature of the system offers a unique opportunity to study the role of flow permanence in structuring aquatic invertebrate communities and to study the spatial and temporal recolonization dynamics at nearby intermittent sites following extreme drought. Key research objectives include: characterizing the benthic community of a perennial stream and associated disconnected pools, studying recolonization dynamics at an intermittent site, determining the role permanent pools and riffles play as refugia to invertebrates during extreme drought, and studying the effect of flow regime on Chironomidae phenologies and community composition.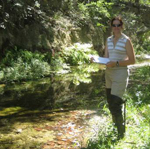 This research will serve as a baseline study in a region that implemented a multi-county Priority Groundwater Management Area (PGMA) in 2007. The escalating demands of urbanization and gas well drilling related to the Barnett Shale play coupled with anticipated global climate change will likely produce more frequent and severe periods of drought that are likely to change the hydrology of the remaining springs and in turn the biotic communities they support. With a better understanding of the range of physiological/behavioral adaptations that aquatic invertebrates possess, water planners and others interested in conservation will be better equipped to balance the escalating demands placed upon finite water resources in a manner that supports biotic integrity and long-term sustainability of groundwater-dependent ecosystems.
My long-term career goals are to teach and continue research in aquatic ecosystems with an emphasis on community ecology, conservation and environmental monitoring.

Working papers

Burk, R.A. and J.H. Kennedy. In prep. Springs as refugia: differences in invertebrate communities from groundwater-dependent pools and riffles with varying hydrology and riparian cover during a supra-seasonal drought.
Burk, R.A. and J.H. Kennedy. In prep. Patch dynamics and recolonization of benthic macroinvertebrates in groundwater-dependent habitats following a supra-seasonal drought in a semi-arid landscape.