Heather Perry
Aquatic Ecologist
City of Austin Watershed Protection Development & Review Department
Austin, TX 78704
Email heather.perry@ci.austin.tx.us
Office: 512-974-2215
M.S. Biology, University of North Texas -2005
B.A. Biology, University of North Texas (minor in Chemistry - 2000
Teaching Assistant Courses:
Contemporary Biology (non-majors)
Insect Biology
Ecology
Research Assistant Projects:
Texas Army National Guard Project
DFW Bioassessment Project
Other Responsibilities at UNT:
Elm Fork Summer Camp Counselor
Elm Fork Natural Heritage Museum Curator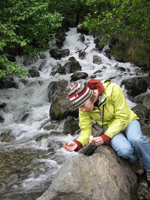 I grew up in Southwest Louisiana along the Calcasieu River where I fell in love with aquatic ecosystems and the flora and fauna that are associated with these areas. I was always interested in animals, especially insects, from a very young age and when I began my college career at McNeese State University in Louisiana I majored in Biology with the hopes that I would transfer to another university to study Marine Biology or Veterinary Medicine. Most of my undergraduate years I worked for several veterinary practices, where I worked on domestic, exotic and wildlife, but veterinary medicine never really put me where I wanted to be – OUTSIDE.
While I was at McNeese I was assigned to a great advisor, Dr. James Lane, who was a mammologist/field biologist. I took several of his field courses and found out that what I had been looking for was a career in ecology. I enjoyed the Vertebrate Zoology and Mammology courses that I took with Dr. Lane they never really captivated my attention and honed my "eye" for taxonomic identification. I moved to Denton, Texas in 1996 after Dr. Lane retired, and I enrolled at UNT for the spring 1998 semester. I knew that there were entomology courses offered at UNT and so my first experience with an entomology course was Dr. Kennedy's Insect Biology course that Fall – this was the beginning of my new found love of insects. I had always thought that if I was to study insects that I would have to be an Agriculture Entomologist, which was not what I was interested in doing. Insect Biology opened the door to all the things I loved about insects, and then I took Aquatic Insects of North America and I was hooked. I had finally found the right path for me – this combined my love for being around water and insects.
After graduation I taught high school in Austin for a year before returning to graduate school at UNT. I wanted my master's research to allow me to gain knowledge for becoming a Stream Ecologist. I chose to do the life history of Cameolobatidius variabilis (Ephemeroptera: Baetidae) from Honey Creek, Oklahoma.
Once I finished my master's degree I had a pretty tall order for employment. I wanted a job where I got to collect insects and would also get to identify them. I knew that most jobs in the regulatory industry often sent out their samples to labs that did all the identifications. I started with the City of Austin's Watershed Protection Department in February 2007, and not only do I get to work and collect insects in some of the most beautiful creeks in Texas but I get to identify the insects that we collect.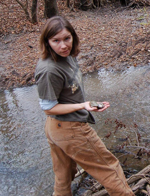 Along with doing typical stream ecology work, I have also become very fascinated with Freshwater Mussels and have started a monitoring program to assess freshwater mussels in the Austin area. I also assist City of Austin Salamander Biologists with population surveys on two endangered salamander species found only in Austin, as well as a threatened species of salamander in the Bull Creek watershed.
I am currently completing two manuscripts for submission for publication. My husband, Jeff, works for the US Geological Survey as an Aquatic Ecologist. We often spend our weekends hiking or swimming in the creeks around Austin with our two dogs, Cricket and Darwin.