Tracee Bennett
B.S. University of North Texas
M.S. Biology Student, Advisor Dr. J.H. Kennedy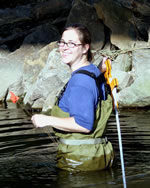 I grew up as the only daughter of an Air Force Officer father and stay-at-home-mother. I lived in several different countries, and always in fairly large cities. Even then, I had an appreciation for the outdoors and loved being around animals. One of my favorite classes in high school was General Biology with Mr. Price, and even though books and literature were my first love, I harbored a secret desire to be a scientist. It wasn't until I took Insect Biology with Dr. Kennedy that I realized how incredible these organisms are, and he's instilled in me a curiosity about something that I never even thought about studying until that time!
I have been working with aquatic beetles for the past year and a half, and am still amazed at the diversity found within this group of animals. My project is a problems-in-lieu-of-thesis in which I am looking at the distribution of aquatic beetles on two Texas Army National Guard bases. I expect to finish during the fall 2005 semester.
In the fall 2005, I will be passing on my joy of learning about insects, as well as ecology in general, in the capacity of 6th grade life science teacher at Episcopal School of Dallas.